Dites-le avec des fleurs ! Mighty Mike nous gratifie cette semaine d'une superbe ballade dont il a le secret, avec son Do you want a flower ? associant Kylie Minogue et Yelle.
S'il est avéré que les petites filles naissent dans les roses, l'amour y est aussi pour beaucoup. Et d'amour il est question dans le dernier mashup du bavarois DJ Bootox, My Love on the run. Une escapade germanique complétée par l'excellent Mama said knock the jogi out de Rillen Rudi.
Power flower : bien que le désir de recevoir de l'amour soit un besoin de base de tous les êtres humains, le chakra du coeur ne peut s'ouvrir même si l'on reçoit de l'amour. C'est en donnant de l'amour que nous transcendons les limites de l'égo et que le lotus de notre coeur peut fleurir. Le seul autre moyen d'y parvenir est d'écouter A day in New York de DRA'man. Essayez, vous verrez, ça marche !
En guise de bouquet final, une question que tout le monde se pose: mais qui est Aphte Punk ? L'équipe de bootlegsfr.com est preneuse de toute information concernant cet étrange duo. L'aphte peut se guérir grâce aux fleurs de Bach (véridique ! chez BFR on vérifie nos sources). Mais n'allez pas leur parler du grand Jean-Sebastien, ils ne connaissent que Patrick. Je crains donc que dans leur cas cette thérapie florale ne soit totalement inefficace.
instrumental : Kylie Minogue – Flower
acapella : Yelle – Que veux-tu ?
Mighty Mike – Do you want a flower ?
instrumental : Yuksek – Always On The Run (Villa Remix)
acapella : Justin Timberlake – My Love
Loleatta Holloway – Love Sensation
Fatman Scoop * De La Soul * Salt N Pepa – Samples
DJ BootOX – My Love On The Run
instrumental: Panjabi Mc – Jogi
acapella: LL Cool J – Mama said knock you out
Rillen Rudi – Mama said knock the jogi out
instrumental: Morcheeba – What New York fight couples about
acapella: The beatles – A day in the life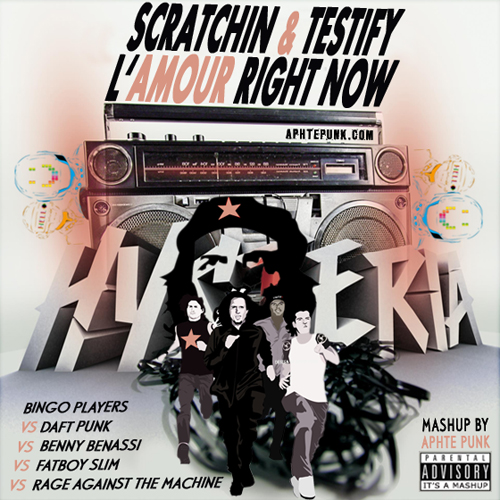 Bingo Players Vs Daft Punk Vs Benny Benassi Vs Fatboy Slim Vs Rage Against The Machine – Aphte Punk – Scratchin & Testify L'Amour Right Now (avec la participation exceptionnelle de Patrick Sebastien)